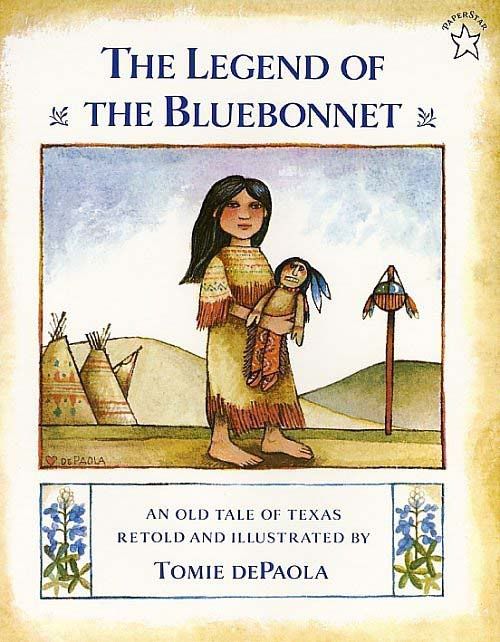 The Legend of the Bluebonnet
by Tomie dePaola.
(
Author Website
) (
Amazon Page
)
Picture book, Age range 4-6 years.
During the time of a great drought, coupled by famine and thirst, She-Who-Is-Alone chooses to give up her most prized possession for the betterment of her tribe; her doll. As a gift for her selflessness the gods sent rain and beautiful flowers that now cover Texas known as bluebonnets.
Tomie DePaola has illustrated and written many children's books that deal with many different types of cultures and folklore such as his award winning
Strega Nona
, the story of an Italian grandma witch, and
The Night of Las Posadas
, which takes place during an annual celebration of Las Posadas in Santa Fe.
Tomie DePaola has illustrated and/or written over 200 children's books. His work has been awarded the
Caldecott Honor Award, the Newbery Honor Award and the New Hampshire Governor's Arts Award of Living Treasure. (cite: author biography)
You can watch an interview with Tomie DePaola on the
Reading Rockets website
where he talks about himself, his art, and encouraging young readers and artists.
This picture book re-tales a Comanche legend, and was read to me when I was in elementary. It was one of my favorites, and one that made me excited to learn more about Native American folklore. How fascinating that people would tell stories about a flower! How wonderful that there were so many legends I hadn't heard about! I truly believe that this book can open the door to learning about folklore and legends in students. There are so many out there.