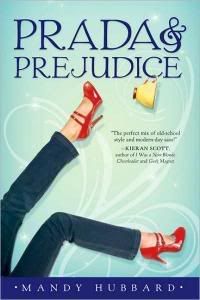 Prada and Prejudice
By Mandy Hubbard
(
Amazon
) (
Author Page
)
Callie finds herself on a class trip to London alone and feeling ostracized by her fellow classmates. One night Callie overhears classmates of hers, the popular girls, plan to sneak into a nightclub. Callie decides that she must be one of those girls, and decides that she needs real Prada heels to do so. After spending more then a small fortune on Prada heels and clothes Callie leaves the Prada store feeling empowered. Until she falls head over heels and cracks her head on the pavement.
Callie wakes up in 1815 London, lost, bewildered, and out of her element. She happens across a duke's house, becomes mistaken for a girl named Rebecca, and finds herself a fake guest in their house. Now Callie must not only try to find her way back, but not out herself as a girl from the 21st century.
This book is not a book that should be taken seriously. If I sat here and
wrote all the time travel problems
this book has I'd kill the book. If I thought about it too much I'd have nit-picked the book to death. This is both good and bad, and for me I enjoyed the book enough to let my nit-picks go. I believe that everyone will like or hate the book because of this though. So I will understand if people will pick out problems with this book and dislike it.
This book is more a long the lines of a fluffy teen read. If you liked books like
The Princess Diaries
or just in general a romance teen read you will like this book. When Callie starts off hating Alex, the Duke, you know what that hatred really means. While so much of this book predictable, and questionable it is still a good book. It is still a lot of fun to read, and that is why I was willing to over look some things.
I found that Callie was very relate-able. She was a real, normal teenaged girl who cares about what she looks like, and what other people think of her. She cares about other people and she finds her own voice when it comes to defending what she thinks is right. I found Mandy Hubbard's writing fun and light, and I can definitely see this book become a favorite for teenaged girls. I can't compare it to
Pride and Prejudice
, however, since I've never read it. Still you don't have to be a Jane Austin fan to enjoy this book.
If you like romance, and you like historical settings then this book is for you.