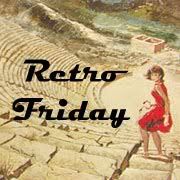 Angie, over at
Angieville
, does something really fun called Retro-Friday. I think it's a really great idea and a really neat way to relive some books that aren't just published but deserve a little recognition. I asked, and Angie said it was fine if I took her idea. So here goes the first Retro Friday! Button courtesy of Angie.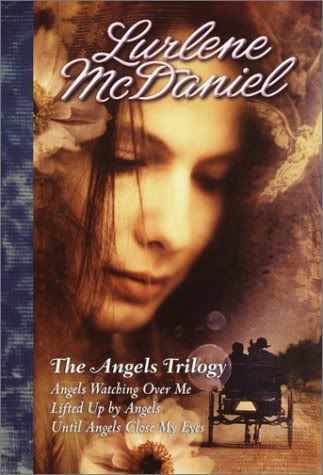 The Angels Triology
by Lurlene McDaniel
(
Amazon
) (
Author Website
)
Compiles indivisual titles:
Angels Watching Over Me
Lifted Up By Angels
Until Angels Close My Eyes
Leah is not happy about being stuck in the hospital for the holidays while her mother is thousands of miles away on a honeymoon with husband number five. Until she meets her hospital roommate, Rebekah, and her big family. Cynical 16-year-old Leah has never known people like this before. From Rebekah's handsome brother, Ethan, who can barely look Leah in the eye, to her kind older sister, Charity, the Amish family captivates Leah with its simple, loving ways. When Leah receives frightening information about her condition, her new friends show her that miracles can happen. And that sometimes angels appear in the most unexpected places.
This trilogy was one that I loved way back in high school when they were originally released sometime in the 90's. One day a few years ago I found the compilation and had to buy it, and re-read it. I loved the love story between Leah and Ethan. Somehow McDaniel found a way to write two characters so in love, and yet so far apart from each other that I am still invested in them to this day. The way that Leah would describe Ethan as smelling like cinnamon, and how she grew to love both his sisters Charity and Rebekah. The whole family dynamic between all of them really made you want Leah and Ethan to have a happily ever after.
McDaniel's books really struck a chord with me when I was a teenager. (Man, that makes me old. Snicker.) I guess I always loved to read the sometimes sadder love stories along with all those horror novels. You know to balance the scales a bit between the two. Once I really think about it Lurlene McDaniel is like the Nicolas Sparks of the teen girl crowds. Strange, sometimes tragic love stories that make you want to cry. When I was reading the Angels Trilogy it was as each book came out so each year I had something to look forward to, and out of all McDaniel's books that I read (And I read a LOT.) this book is the one that sticks with me the most.
I'm not gonna say whether Leah and Ethan did get their happily ever after either. You'll have to read the novels to learn that. But if you want to dip your toe into this book then check out a
limited preview
on Google books. Which is what I do for a lot of books. Especially when I have a hard time finding a book in a library or book store.