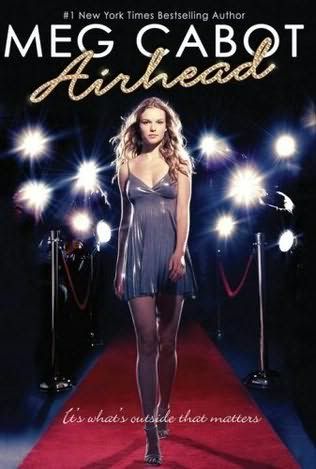 Airhead (Series) by Meg Cabot
(
Goodreads
) (
Author Page
)
Emerson Watts, 16 and female, loves playing video games, and hanging out with her best friend, Christopher, who she is also secretly in love with. Of course. During a Stark superstore opening Em is involved in a serious accident which leads her to wake up as Nikki Howard, teen supermodel. Em finds that she has to get used to being so physically desirable while at the same time hold onto her feminist ideals.
Which isn't easy. Not when you're used to being judged for your brain rather then your looks.
When Em decides to go back to school and finish her high school degree she has to balance the stresses of fulfilling Nikki Howard's contractual obligations along with homework. She also quickly realizes that she is being watched. She's not sure why, but she's willing to put a stop to it. And she's pretty sure the spy-er is the head of Stark enterprises.
Now, I'm a huge Meg Cabot fan. I think I can say that I easily enjoy about 80 % of Meg Cabot's books, both YA and Adult. Sometimes I don't like her books for whatever reason. I just don't instantly love them. Take Airhead for example. While I thought there was an really good premise of a girl whose brain is transplanted into a super model's body I felt that this book moved along rather slowly. I mean, how extremely interesting to see what it's like to be a celebrity, and even more interesting that Nikki is being spied on for some reason by, probably, Stark enterprises. Most of this first book, however, was focused on Em easing into Nikki's life with no real focusing on the most interesting part of the book. WHY is Nikki Howard being spied on? WHY isn't Em more interested in figuring out that mystery then the mystery of why her best friend, and secret love, Christopher has changed so much after her "death"?
I suppose you'd need to read book 2 (book three coming out in May 2010), but I don't think I'll be finding out any time soon. Since I'll be waiting for the paperback release of book 2,
Being Nikki
, in order to continue the series. Although it does sound like, from the summary, things are heating up greatly for Em Watts, now Nikki Howard. Sounds like you will find out just why Stark is spying on her, and just why Nikki's family is so absent in her life. I believe that this book is still well received by fans of Meg Cabot's books. So don't take my review as a reason not to read it. Even though I didn't love book one it certainly hasn't made me not want to read the second book.