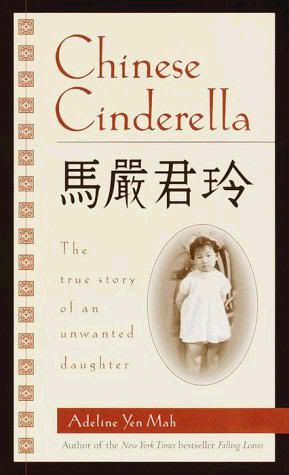 Chinese Cinderella by Adeline Yen Mah
Young Adult, Memoir
Summary (from
author website
)
A riveting memoir of a girl's painful coming-of-age in a wealthy Chinese family during the 1940s.
A Chinese proverb says, "Falling leaves return to their roots." In
Chinese Cinderella
, Adeline Yen Mah returns to her roots to tell the story of her painful childhood and her ultimate triumph and courage in the face of despair. Adeline's affluent, powerful family considers her bad luck after her mother dies giving birth to her. Life does not get any easier when her father remarries. She and her siblings are subjected to the disdain of her stepmother, while her stepbrother and stepsister are spoiled. Although Adeline wins prizes at school, they are not enough to compensate for what she really yearns for — the love and understanding of her family.
Following the success of the critically acclaimed adult bestseller
Falling Leaves
, this memoir is a moving telling of the classic Cinderella story, with Adeline Yen Mah providing her own courageous voice.
All I can really say about this book is that it really opened my eyes. Not just to life in China during the 1940's and 50's, but how deeply the culture and traditions of China played such a huge part in ostracizing a little girl and her brothers and sisters from her step-family.
Chinese Cinderella
was one of the most moving memoirs I've ever read. I cried reading this book for the life that this little girl, obviously now a grown women, lead simply because of the circumstances of her birth.
I also snapped up her adult memoir
Falling Leaves
which continues her story not completely told in her YA book. The way her adult life continues and how she continues even as an adult to try and be accepted by her family is heartbreaking and true to life. I could completely relate to Adeline's desires to be loved by her step-mother. I highly recommend this to readers who love stories where someone has everything against them still raise above her circumstances.
Read
an interview
with Adeline Yen Mah on Writer's Write.
Or read
a book review
of Falling Leaves on Book Whisperer.