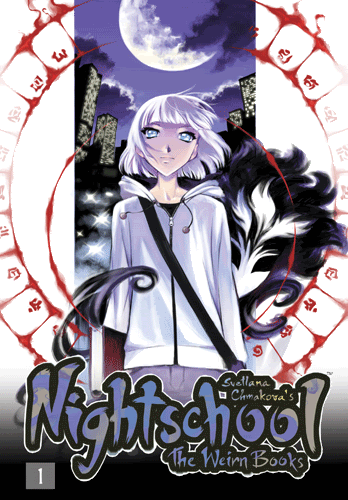 Nightschoo
l
by Svetlana Chmakova
Vol. 1-Vol. 3
(
Publisher Page
) (
Author Page
)
Summaries from Yen Press.
Series Synopsis:
Nightschool answers the age-old question—Where do demons get their diplomas? Schools may close for the night and the lights may be off, but class is still in session. At the Nightschool, werewolves, vampires, and witches gather to learn everything from spell casting to calculus. Alex, a young weirn (a particular kind of witch) has always been homeschooled, but dark forces seem to be drawing her closer to the Nightschool and the mysteries within.
Vol. 1 Summary:
Schools may lock up for the night, but class is in session for an entirely different set of students. In the Nightschool, vampires, werewolves, and weirns (a particular breed of witches) learn the fundamentals of everything from calculus to spell casting. Alex is a young weirn whose education has always been handled through homeschooling, but circumstances seem to be drawing her closer to the Nightschool. Will Alex manage to weather the dark forces gathering?
Svetlana Chmakova is an OEL (Original English Language) manga
creator that I have been aware of and reading since she started publishing her comics online through
Wirepop
and
Girlamatic
. I loved both
Chasing Rainbows
, a story about a girl whose future is foretold, and
Nightsilver
, a story about a young witch. Unfortunately both stories have been on hiatus for years now since Svet had to turn her attention to publishing her first professional manga series,
Dramacon
.
Once
Dramacon
ended a new series,
Nightschool,
began. I was highly interested in
Nightschool
not only because I've loved all of Svet's work thus far, but also because the series wouldn't have an end in sight.
Dramacon
was only signed on for three volumes, and
Nightschool
, so far, seems to be a much longer running series. I've bought and read all three volumes out now and have loved each volume. I think
Nightschool
is a very promising series.
Alex, the main character, is a home-schooled, but gifted, young witch who lives with her older sister, Sarah. Something awful happened in Alex's past which only re-enforces her self imposed isolation, but isn't and hasn't been revealed. Whatever it was it's left a mark on Alex. Sarah is always teasing and pushing Alex to move outside her comfort zone. When Sarah goes missing Alex willingly and quickly investigates the night school Sarah worked at as the Night Keeper to find out why. A parallel story involves a group called the Hunters who protect humans and enforce a treaty between Night Things and the Hunters keeping humans blissfully unaware of vampires, weres, and weirns.
The story is slow going which is one reason why I've held off on writing a review on
Nightschool
for three volumes. I wanted to see where the story would be taken, and it's taken about three volumes to establish what kind of magna this series would be. While
Nightschool
's storyline was slow going it wasn't boring at all. On the contrary I've loved turning every page and reading every part of
Nightschool
, especially the authors notes at the end of each book!
The story is slow going because there are several storylines; Alex looking for Sarah, Alex's amazing and mysterious powers that surpass her age, and the Hunters who are investigating her powers although neither she nor they realize it yet. Without going into too much spoiler-y detail all the storylines keep you guessing as to what will happen next. Each volume adds more and more layers to the characters and world making
Nightschool
one fun and intriguing read. All of the characters have their funny moments, their serious moments, and their WTH? moments. Svet has found ways to not only keep you guessing, but love the characters and become invested in them. It's an amazing ability that makes Svet a very talented and complex story teller.
The artwork, again, is gorgeous. Having read Svet's works for years now I have seen the molding of her artistic style. I am amazed at the uniqueness of Svet's character designs and background settings. My favorite character design so far? The librarian, of course! Vol. 3 was just released in April, and was the best volume yet in all of these respects. I can't wait to see what happens next. Keep it up Svet!