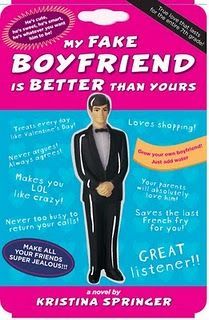 My Fake Boyfriend is Better Than Yours
by Kristina Springer
(
Author
) (
Amazon
)
This ARC was received as a part of Around the World Tours.
My Fake Boyfriend
will be out August 1, 2010!
Seventh grade was supposed to be fun, but Tori is having major drama with her BFF, Sienna. Sienna changed a lot over the summer—on the first day of school she's tan, confident, and full of stories about her new dreamy boyfriend. Tori knows that she's totally making this guy up. So Tori invents her own fake boyfriend, who is better than Sienna's in every way. Things are going great—unless you count the whole lying-to-your-best-friend thing—until everyone insists Tori and Sienna bring their boyfriends to the back-to-school dance.
Would you look at that! My first Middle Grade fiction, AND it's funny! The story begins with Tori getting ready for her first day of school. For the the very first time since kinder Tori is getting ready alone. In fact for months Tori hasn't heard from or received an email from her best friend Sienna, because Sea was away on a family vacation. The start of the school year just isn't the same without Sienna, and Tori feels a bit lost. Until she realizes that the reason she hasn't heard from Sienna is because she has a new tan and a new boyfriend. A boyfriend Sienna is pretty sure is fake!
What is a girl to do? Make up her own fake boyfriend who is better in every way then her best friends fake boyfriend.
Oh, middle school (and high school for that matter!) how interesting fights and competitions can become between the best of friends. I remember quite vividly the big blow-outs that I had with my own friends. My father called it a Love/Hate relationship, and as an older reader this book really reminded me about that time in my life. For younger readers this book may come at a time where fights have a occurred and it seems like they will never be friends again. Or they will have not yet experienced what a big fight between friends can be. Either way this book can really resonate with tween girls feeling their way through tween social dynamics while making you laugh at all the ways Tori and Sienna find to one-up each others fake boyfriends. When Sienna and Tori are asked to bring their boyfriends to the school dance both girls have to scramble to cover up their lies.
This was a funny, quick read definitely suitable for pre-teens who love to laugh. Or, you know, adults.