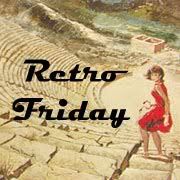 Retro Friday
is a weekly meme hosted here at Angieville and focuses on reviewing books from the past. This can be an old favorite, an under-the-radar book you think deserves more attention, something woefully out of print, etc. Everyone is welcome to join in at any time! I include roundups from participating bloggers in my post every week.
- From
Angieville
There's something very strange about the rats living under the rosebush at the Fitzgibbon farm. But Mrs. Frisby, a widowed mouse with a sick child, is in dire straits and must turn to these exceptional creatures for assistance. Soon she finds herself flying on the back of a crow, slipping sleeping powder into a ferocious cat's dinner dish, and helping 108 brilliant, laboratory-enhanced rats escape to a utopian civilization of their own design, no longer to live "on the edge of somebody else's, like fleas on a dog's back."
This unusual novel, winner of the Newbery Medal (among a host of other accolades) snags the reader on page one and reels in steadily all the way through to the exhilarating conclusion. Robert O'Brien has created a small but complete world in which a mother's concern for her son overpowers her fear of all her natural enemies and allows her to make some extraordinary discoveries along the way. O'Brien's incredible tale, along with Zena Bernstein's appealing ink drawings, ensures that readers will never again look at alley rats and field mice in the same way. Synopsis from GoodReads.
I have to admit that I was a huge fan (and still am!) of the 1982 movie based on this children's novel,
The Secret of NIMH
which played up a magical element of the story not seen in the original novel. I didn't even know it was a book until I was around 10 or 12, and found it among some old novels left in my older cousins room. I loved this story, and I loved Mrs. Frisby who if you didn't notice, is an adult protagonist in a children's fiction. Yet, I love that Mrs. Frisby worries about her children, and talks about her husband whose intelligence she mentions was passed on her children.
When the farmer's plow threatens the safety of her sick son, Timothy, Mrs. Frisby turns to her husbands friend, Mr. Ages, for help. She is told to visit the Great Owl for advice, and does so despite danger to her life for her son. (She is a field mouse after all!) Mrs. Frisby may not have a genetically altered ability to learn, like Justin or Mr. Ages, but she's a smart and fearless character despite her timid nature. I'm not sure if I love this book because I loved the movie so much or not. I just don't have that kind of perspective on the book away from the movie. I watched it so many times I'm pretty stuck on it, but this is definitely one of those books I want to read to my children one day and pass it on.
Despite it's fantasy elements in the movie, and the fact that there are talking mice and rats, this really is more of a science fiction book.