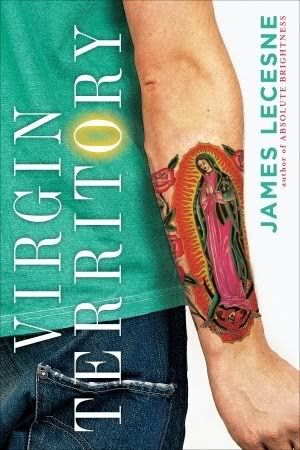 Virgin Territory
by James Lecesne
(
B&N
) (
Author Page
)
Received from Around the World Tours
Virgin Territory explores the power of faith and our need to believe in miracles. Sixteen-year-old Dylan Flack is uprooted from his cozy life in New York City by the death of his mother of cancer the night before 9/ll. He finds himself transplanted to Jupiter, Florida, and in the chaos of the move discovers that his father has lost their treasured collection of family photos. Dylan feels that he has begun to lose the memory of his mother's face, and without access to those pictures of their past together, each day stretches darkly into a future without hope. Enter: the Virgin Club, a nomadic group of trailer kids whose mostly single parents drag them all over the country in search of sightings of the Blessed Virgin Mary. Although not looking for membership in any club, Dylan falls in love with their leader, Angela, who believes that change occurs in direct proportion to desire and the willingness to take risks. In a series of misadventures and brushes with the law in what Dylan comes to think of as "virgin territory," she teaches Dylan to risk a future without his favorite parent. Miraculously his new found courage leads to a long overdue confession from his father that brings them closer together and catapults Dylan into a future that holds more promise.
While I felt that the writing was good, and the story was engaging, due to time constraints I can't honestly give any review, good or bad, to this book. I simply did not have the time to devote to reading enough of the book. Please refer to
the tour page
for more reviews on this book.