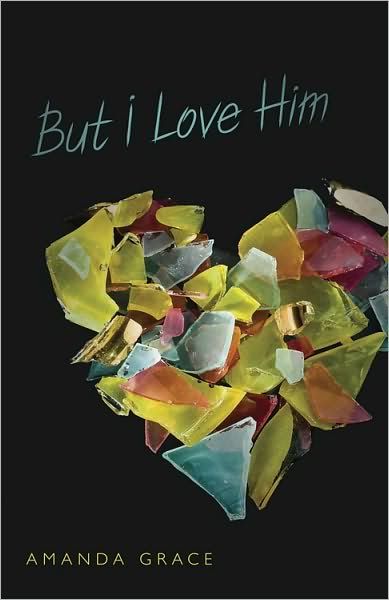 Title:
But I Love Him
Author:
Amanda Grace (AKA Mandy Hubbard)
Published:
2011
Edition Read:
Purchased Paperback
Overall:
If there was a book that made me put it down, feel sad, toss and turn, then pick it up again it was this book.
Summary
(Amazon) :
Sometimes at night, I wake up and stare at the heart for hours. I think of how I collected each piece from the beach, how I glued it all together into one big sculpture. I wonder if Connor realizes what it means, that he'll always have a piece of me no matter what happens. Each piece of glass is another piece of myself that I gave to him.
It's too bad I didn't keep any pieces for myself.
At the beginning of senior year, Ann was a smiling, straight-A student and track star with friends and a future. Then she met a haunted young man named Connor. Only she can heal his emotional scars; only he could make her feel so loved - and needed. Ann can't recall the pivotal moment it all changed, when she surrendered everything to be with him, but by graduation, her life has become a dangerous high wire act. Just one mistake could trigger Connor's rage, a senseless storm of cruel words and violence damaging everything - and everyone - in its path.
This evocative slideshow of flashbacks reveals a heartbreaking story of love gone terribly wrong.
The Longer Review:
I didn't even want to finish this book. I put it down, stared at it, picked it up, and read. Put it down, stared at it, picked it up, and read. Repeat until the end of the book. I really didn't want to finish this book, because it was a very hard book to read. It starts off at the end of the relationship, one year later, and goes back to that one year mark occasionally. It's hard even writing a review about this book. In fact I've been thinking of how to review this book for a long time now. I didn't like the way Ann was being treated, but at the same time you realize that Connor isn't just an abuser. Connor is also the abused. He has grown up in a world where his mother is verbally, emotionally, and physically abused by his father. Connor swears he'll never be like his father, but you learn very quickly that this goal isn't met.
Mandy Hubbard (Amanda Grace) is a fantastic writer. I reviewed her first book,
Prada and Prejudice
, and really enjoyed that book.
But I Love Him
was in a category all it's own. It was hard hitting, and didn't make it easy on the reader. It definitely wasn't easy on me. I high recommend it.
Mandy Hubbard's next book
Ripple
is out, and I highly recommend reading it. I haven't picked it up yet, but I know I won't be disappointed.