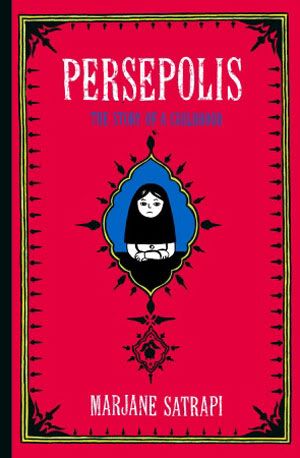 Title:
Persepolis: The Story of a Childhood
Author:
Marjane Satrapi (
Random House Website
)
Published:
2003
Summary:
(Random House)
Originally published to wide critical acclaim in France, where it elicited comparisons to Art Spiegelman's
Maus
,
Persepolis
is Marjane Satrapi's wise, funny, and heartbreaking memoir of growing up in Iran during the Islamic Revolution. In powerful black-and-white comic strip images, Satrapi tells the story of her life in Tehran from ages six to fourteen, years that saw the overthrow of the Shah's regime, the triumph of the Islamic Revolution, and the devastating effects of war with Iraq. The intelligent and outspoken only child of committed Marxists and the great-granddaughter of one of Iran's last emperors, Marjane bears witness to a childhood uniquely entwined with the history of her country.
My Thoughts:
I came across
Persepolis
while in Barnes and Nobles and running across their Summer Reading table. I thought, for a moment, that some customer had just left the book on the table being too lazy to put it away. Then I realized that
Persepolis
was indeed in the right place. Then my father came up to me and said he'd heard of the book and even recommended it to me.
A graphic novel? Both being recommended by my father and as summer reading? Presumably by a school or college. I had to pick this one up.
Persepolis
is a memoir of Satrapi's life after the Islamic Revolution in 1979. In 1980 Satrapi is 10 years old and before then had enjoyed a life of relative independence. Both her parents are Marxists and encourage Satrapi to fight for what she believes in. However the Islamic Revolution had occurred and Satrapi's life was then changed forever. She was expected to wear a veil in public. Her school, originally a bilingual French non-religious school, was changed, and she was separated from the boys that attended. This is a lot of change for one ten-year-old. Not to forget how alcohol, music, and I don't think I'd accept a lot of that same change as an adult. Satrapi's simplistic black and white drawings really bring out a lot of the pain and difficulty that comes from war and political repression. She speaks of these hardships how they effected her own family. How her mother hid herself because a photographer had taken her picture at a protest. Her mother feared for her life, and dyed her hair and hid behind large sunglasses. All because someone took a picture of her.
I can see why this story made it on a reading list. It was hard to put it down. The second volume,
Persepolis 2
, picks up where the first left off. Satrapi moves to Europe when her parents begin to fear her staying would end in her being executed. I have yet to read it, but will definitely pick it up as soon as possible.