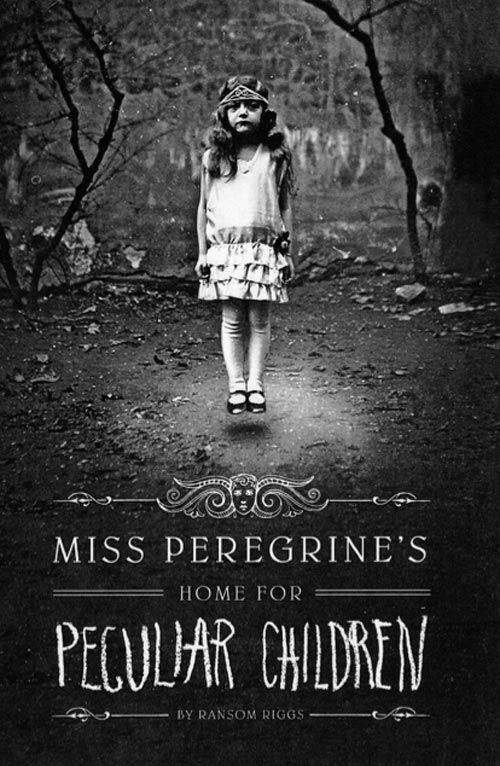 Title:
Miss Peregrine's Home for Peculiar Children
Author:
Ransom Riggs
Published:
2011
Edition Read:
Purchased Hardcover
Grade Level Recommendation:
High Mid Grade - High School
Overall:
I'm not really sure how much I liked the whole premise of this book. This is possibly because I slept through the part where they explained what the loop is, but even when The Boy explained it to be I spent the rest of the book unsure about it.
Summary
(Amazon) : A mysterious island. An abandoned orphanage. A strange collection of very curious photographs.
It all waits to be discovered in
Miss Peregrine's Home for Peculiar Children
, an unforgettable novel that mixes fiction and photography in a thrilling reading experience. As our story opens, a horrific family tragedy sets sixteen-year-old Jacob journeying to a remote island off the coast of Wales, where he discovers the crumbling ruins of Miss Peregrine's Home for Peculiar Children. As Jacob explores its abandoned bedrooms and hallways, it becomes clear that the children were more than just peculiar. They may have been dangerous. They may have been quarantined on a deserted island for good reason. And somehow—impossible though it seems—they may still be alive.
A spine-tingling fantasy illustrated with haunting vintage photography,
Miss Peregrine's Home for Peculiar Children
will delight adults, teens, and anyone who relishes an adventure in the shadows.
My Thoughts:
The introduction of this book is strong. It pulls you in, has quite a bit of language, and lends it up to Jacob very wonderfully introducing the world that his grandfather lived in. A photograph of an old man sleeping on a couch with a gun in the beginning of the novel could be looked at very differently the further along you read into the novel. This is an example of how well Riggs created a world, and allowed you as a reader to be the Doubting Thomas of the story, and gradually bring you into learning more and accepting more of the story. When you are dealing with introducing a new fantasy novel, in a different format than most novels in general, you want to take the reader in gently to get them to understand and accept the world they are being taken into.
When Jacob is taken to the island that his grandfather spoke of so often in his childhood he learns that his grandfather wasn't the lunatic he thought him so often of being, but a true hero to the peculiar children that Miss Peregrine cares for. Oh yeah, and that Miss Peregrine is a real person rather than fictional as Jacob has always thought of her being. Jacob learns more about his grandfather and his supposed delusional stories then he ever thought possible. When this amazing world and its amazing peculiar children start to have problems of their own Jacob finds himself sucked into a war he never knew existed. A war that his grandfather fought long before Jacob was ever born.
Over all I didn't enjoy this book as much as The Boy did. Possibly because we always read before bed time, and often, if I wasn't reading, I was falling asleep and missing out on parts of the story. The Boy would often have to catch me up a bit on it before I could continue reading. Most times though I was the one reading the novel so thankfully I didn't miss out on a whole lot of the novel. I suppose this novel simply resonates a bit more with The Boy then with me. When we found out there will be second novel coming up The Boy was very intrigued with the idea of picking up this world again. I'm hoping that it will be just as interesting as the first novel has been. I would recommend it to Mid Grade or lower High School aged students. However, as both The Boy and I are not of that age group and still enjoyed the novel it can aways be good for other ages to enjoy.
The photographs enhanced this novel, and helped it touch others on both a visual and non-visual level. I would even go so far as to say that this could be a good book for reluctant readers. Readers who want to visualize a book or what is happening with the aid of real photos that connect to the story as well as these photographs do. Even if I didn't get as much out of this book as The Boy did I do believe its a good book that should be read.