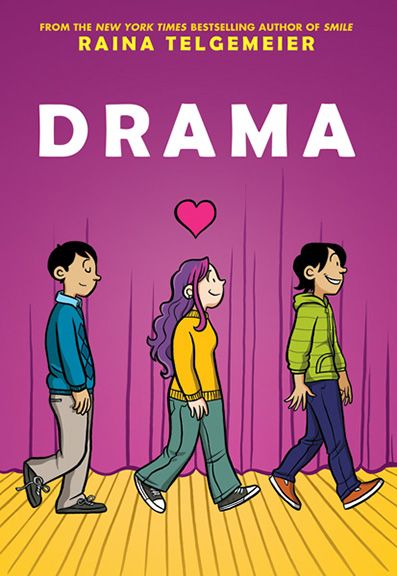 Title:
Drama

Author: Raina Telgemeier

Series: One Shot

Published: 2012

Edition Read: Paperback

Level Recommended: Mid-Grade to Young Adult

Overall: Drama was a very sweet and charming story about young love, self-realization, and friendship.
Summary: (Book)
Callie loves theater. And while she would totally try out for her middle school's production of Moon Over Mississippi, she's a terrible singer. Instead she's the set designer for the stage crew, and this year she's determined to create a set worthy of Broadway on a middle-school budget. But how can she, when she doesn't know much about carpentry, ticket sales are down, and the crew members are having trouble working together? Not to mention the onstage AND offstage drama that occurs once the actors are chosen, and when two cute brothers enter the picture, things get even crazier!

Review: If there is one complaint I really have about my local B & N it's that I have a hard time finding sweet gems like Drama among the manga and super herocomics. In all honestly, I believe that you have to know what you're looking for or be willing to order it before you find something that's just a bit different.
Raina Telgemeier's first graphic novel, Smile, was published in 2010, but I had come across Raina's work when it was being published online through a web comics site. One that I stopped checking out quite some time ago, and seems to now be gone. (Or maybe I just can't remember what the site name was. Hum.) Over the summer I ended up coming across Raina's newest publication, Drama, in my local B & N by accident. I recognized Raina's drawing style right away, and was thrilled to see she'd accomplished her goal of publishing her work.
Seriously, Raina's art work, along with the beautiful bright color palette makes this book a lovely work of art. Her drawing style is refreshingly different from the manga style that has kind of taken over graphic novels, but it's also distinct enough that, after several years, I was able to recognize it immediately as work from an artist I am impressed with. I found Raina's pacing of her panels and cleanness of her artwork adds to the readability of her overall story. Too many times I've looked at a graphic novel and found the artwork distracting. This is not true at all for Raina's work.
Drama as a story starts off with main character, Callie, confessing to her crush, Greg, that she was very much interested in a relationship with him. She finds out very soon that Greg just doesn't feel the same way. Callie is, understandably, crushed by the rejection, but soon finds herself immersed in working behind the scenes of her middle school's production of Moon Over Mississippi in special effects. She soon meets twin brothers Jesse and Justin and convinces both of them to become involved with the school's production as well. Callie just doesn't realize how much these twins, coupled with the already growing drama of the production itself, will force her to look at herself and how she feels about romance.
I found almost everything about Raina's story delightful and sweet. It touches on some complex issues where relationships are involved without losing the charming nature of the storytelling. Callie's awkwardness towards relationships is mirrored in almost all the other characters is really how I remember middle school being. You're more independent, but you're still treading some unsteady waters. Your friends and your life is suddenly becoming complicated when you throw in romance, but at the same time you're finding what moves you. For Callie, it's her love of Broadway style shows, and most notably how they are done. I find Raina's Drama to be a great addition to any library. Now, if only I could get my hands on Smile.