S
Around the time that Little Monkey was born several other celebratory things happened. Two of which where the birthday's of both my father and husband. Although every one understood why my husband and I hadn't been able to buy gifts for anyone on time I still felt pretty bad. I tend to lean a little more towards making gifts for people if I am at all able.
I suppose I felt that Father's Day was a great chance to make something a little more special for both my dad and my husband. I had the extra time, and I was able to make the short trips to the store for the items needed. My brilliant plan was to paint the mugs and then give them away as a surprise. Things did not go as planned, but my crafting projects never do.
(I also took fantastic photos with my iPhone instead of my camera since both cameras seem to be giving me a bit of trouble lately.)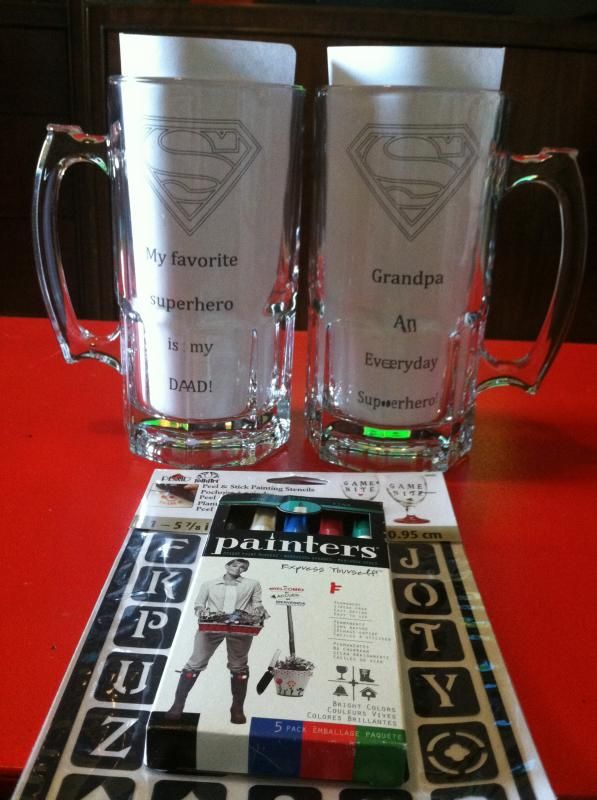 For this project I needed:
2 glass mugs
1 package of paint pens
You'll also note that in the photo I have stencils that I had originally planned to use for lettering. I have learned that stencils and I are not friends. Stencils should be easy to work with. They are not. Maybe one day I will learn how to use stencils properly, but this project was not that time.
For both mugs I did a little search online to find a good idea that I could easily print out and paint onto the mug. I settled on the Superman logo with different cute slogans for both my husband and father.
I had to conduct a search for a line drawing of the Superman logo that I could easily trace. Then I pasted the image into a Word document and decided on a different slogan for each mug before printing out the images.
Then I put the print out into the mug and gauged where I could put the design on the smooth part of the mug and the pens that I purchased. I realized pretty quickly that I would need to space out the lettering. I settled on the Superman logo and name on the front, and the slogan on the back of the mug.
Once I was sure of where I wanted to put the Superman logo I used the red paint pen to fill in the red parts of the logo, and then traced the lines of the logo with a black pen. I freehanded the names and slogan lettering for each mug, and ended with a pretty satisfying end product. (I used a paper towel to sort of fill in the mug so the painted design was easier to see.)
In the end, both my husband and dad seemed to like their mugs, and I was very pleased about giving them both a hand painted gift. I'd love to know if anyone else did a crafty project for their husbands or fathers.