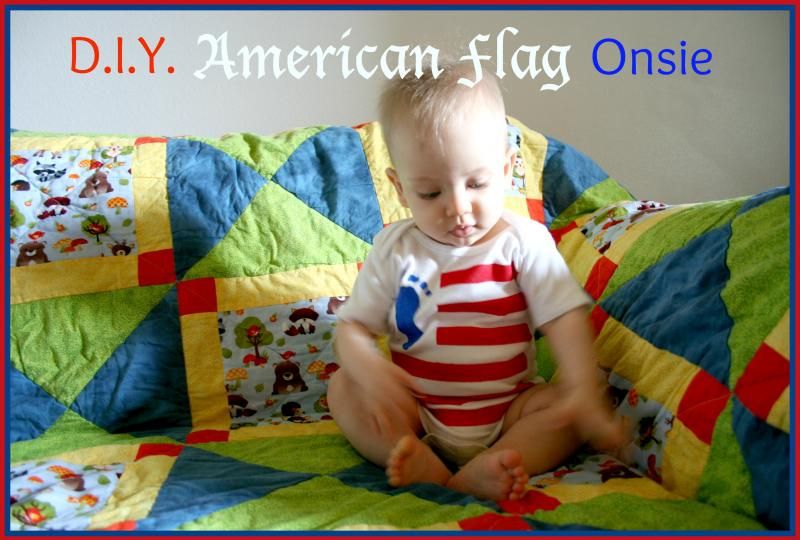 I actually saw this project on my personal Facebook page the other and day and just couldn't help myself. I had to go and make Little Monkey an American Flag onesie of his very own. My only wish? That I could have put his little handprint on the onesie instead. But, really, it would not have been an easy thing to do. Getting his little footprint on the onesie was hard enough! Can you imagine Monkey trying to grab onto the onesie as soon as his little painted hand hits the fabric?
Yeah, I decided to play it safe this time round. I like this project so much that I plan to make one every year until Monkey decides that D.I.Y. American flag wear is so last year.
Also, how cute is he? Pretty darn cute if I do say so myself.
Anywho, let's move on. This project is fairly simple and I was able to get it done in a fairly short amount of time. (Seriously, it took me longer to FIND all the items needed then it did to MAKE the thing.
Here is what you'll need:
1 onesie any color
1 bottle red fabric paint
1 bottle blue fabric paint
1 roll of masking tape
1 sponge brush
1 piece of cardboard
(Full disclosure, I had originally planned to go with grey because I love that color, but finding said grey onesie in was near impossible in the short amount of time I had. I ended up using a plain white onesie that we already had on hand.)
Step One: Make sure your onesie fits around the cardboard piece. You will need to bunch the fabric in the back to make sure that the front of the onesie is spread out evenly. You don't want to overly tighten the fabric around the cardboard. Just enough to make sure you don't accidentally paint wrinkle-y stripes on your fabric. I used my masking tape to secure the back of the onesie and the fabric.
Step Two: Place long strips of masking tape across your onesie. Remember that the American flag starts and ends with red. I used the masking tape as a type of measurement to ensure that my lines were straight. This means I used several strips of masking tape to create thirteen red and white stripes. Then I removed every other strip of tape so that I could paint on the red stripes.
Step Three: Place one piece of masking tape along the edges of the first five stripes. This will leave a space for the field of blue in your flag.
Step Four: Use a sponge brush and red fabric paint to paint the red stripes. I painted on a couple of coats just to make sure that the stripes were really nice and red.
Step Five: Let the paint dry.
Step Six: Remove all the tape, but do not take the onesie off the cardboard. Keep it tight so you can put your little ones foot or handprint on it.
Step Seven: Use a clean sponge brush to paint your little one's hand or foot blue and press it into the fabric. Be quick! Fabric paint dries fast!
Step Eight: Clean your little one's hand or foot throughly, and let the onesie dry. Then you're done! Easy, right?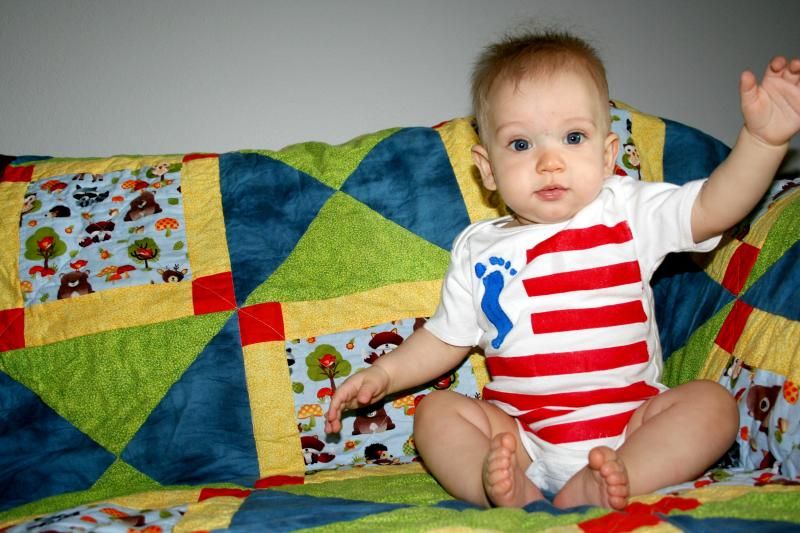 Patriotic Little Monkey is patriotic.