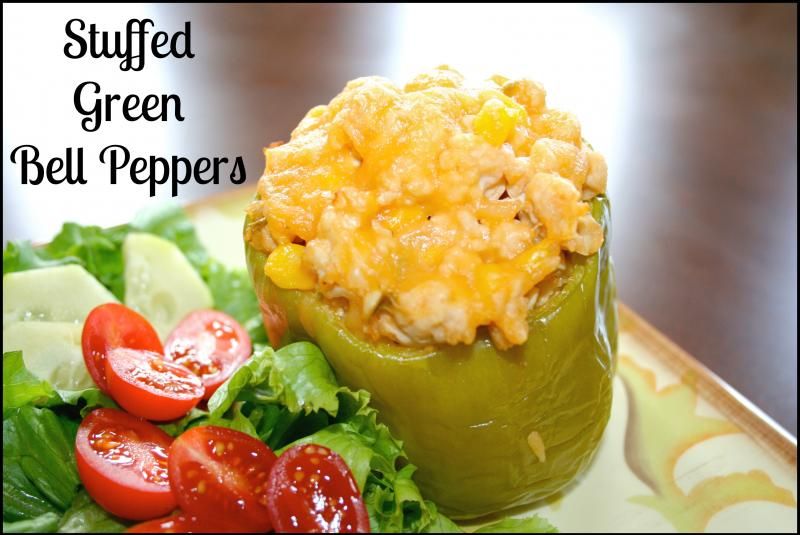 When I cook I tend to have a set of recipes that I use as family staples. (Especially when I'm coming home from work and I'm exhausted, but we still need to eat. And no, we can't have fast food again. We need to have real food.) For me, this recipe doesn't take a lot of thought, and most of the time I'm trying to use up ingredients that need to be used up or else they have to be tossed out into the trash.
In fact the first time I made this recipe it was because we had several green bells in our fridge and I didn't realize I'd bought even more bell peppers at the store just a few days before. Then we had some leftover Mexican rice that I'd made that always ends up getting tossed out because there just isn't enough for two people in another meal.
A quick look at Pinterest on the proper temperatures to cook stuffed bell peppers and I ended up pulling this together. The recipe has changed a bit over time, but I have finally found one that I think works out for our family. As long as I have enough bell peppers in the fridge I can cook this up and have dinner on the table in 30-40 minutes.
Recipe
1 lb Ground Turkey
1 cup Frozen Sweet Yellow Corn
1 cup Cooked Rice (approximately)
4 Medium Bell Pepers
1-2 TBSP Minced Garlic
1/4 cup diced White Onion
1 bag of Shredded Mild Chedder Cheese
Step One: Preheat your oven to 450 degrees. Line 1 cookie sheet with aluminum foil and set aside.
Step Two: Wash and cut off the tops of your four bell peppers. Scrape out the seeds and insides of each bell pepper and toss the seeds and stem. Dice the tops of your bell peppers. You are going to sauté the diced bell pepper later.
Step Three: Once your oven is preheated you are going to place all four empty bell peppers on the cookie sheet into the preheated oven. I usually do this for about 15 minutes. Also I'm lazy. I don't want to boil the bell peppers or any of that. So I just bake them while I get the filling cooked. I still set the timer just incase something happens. I don't want to cook the peppers too long.
Step Four:
Toss your diced bell pepper, onion, and garlic into a hot a skillet with some olive oil. Once they have cooked for about 5 minutes throw in the ground turkey and brown. I usually add about 1-2 TBSP of
Knorr Boullion
into the ground turkey and cook. However you can season the ground turkey however you'd like. I'm sure not everyone is a huge fan of Knorr Boullion.
Step Five: Once your ground turkey is browned add in your frozen corn and cook until the corn is no longer frozen. The corn can cook pretty well with just the juices of the ground turkey. Once the corn is cooked add the rice. When it comes to my rice I am usually trying to use up the last of some left over Mexican rice I've made earlier in the week. You can use whatever kind of rice you prefer.
Step Six: Lower the heat on your skillet and add in about 1/2 cup of cheese and mix until the cheese is throughly melted throughout the turkey.
Step Seven: Pull your bell peppers from the oven and set somewhere the hot cookie won't fall or burn you. Stuff each bell pepper with the turkey mix. Usually I have a little of the mix piled on top of the bell peppers. Sprinkle a little bit of cheddar cheese on each bell pepper and slide it into the oven again.
Step Eight: Cook the bell peppers for 20 minutes and serve.